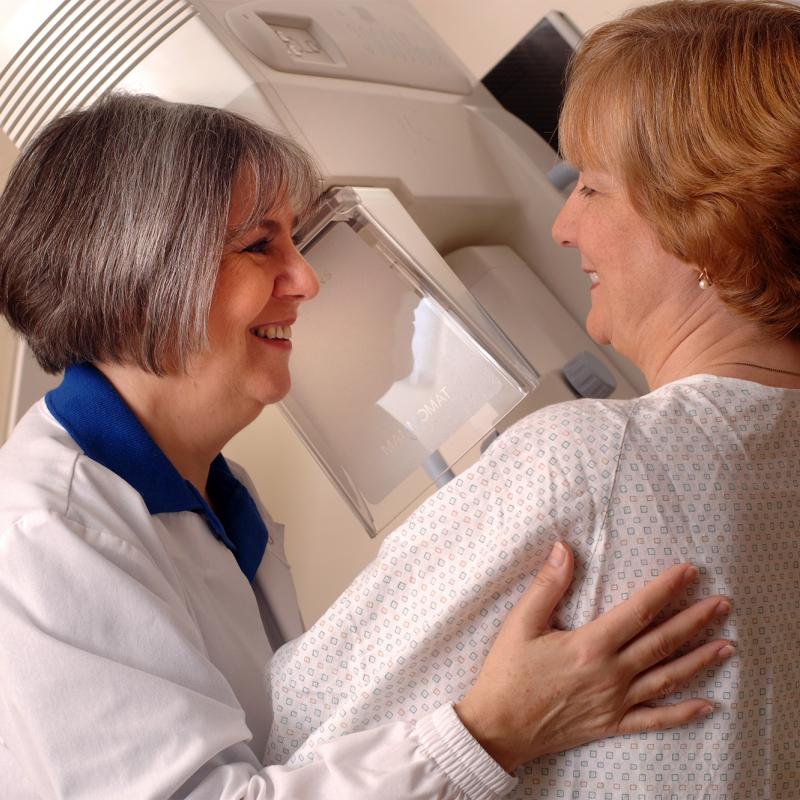 Breast Center Services
Complete Breast Care – The Breast Center, located in Texas Health Huguley Imaging Center, provides a convenient, private location with dedicated team members to meet your breast health needs.
8 items. To interact with these items, press Control-Option-Shift-Right Arrow
Screening Mammograms

Screening mammograms involve two X-ray images of each breast. These images make it possible to detect tumors that cannot be felt. Early detection of breast cancer with screening mammography means that treatment can be started earlier in the course of the disease, possibly before it has spread. 

To schedule your mammogram by phone, please call Call817-551-2787.

Diagnostic Mammograms

Diagnostic mammograms are utilized only with a lump or if your radiologist found something on your screening mammogram. Diagnostic mammograms take longer than screening mammograms, as more images of the breasts are being taken from several angles to produce a detailed image that will help your doctor make an accurate diagnosis.

Breast Ultrasound

A breast ultrasound is another noninvasive procedure that produces images of the internal structures of the breast because mammography alone is not always enough. Breast ultrasound can distinguish a generally harmless fluid-filled cyst from a potentially concerning solid mass. It is also used to evaluate whether a solid mass is benign or appears to be malignant. A breast radiologist will perform your breast ultrasound in the comfort of our breast center. If the physician on the medical staff sees the need for any additional imaging such as 3D mammography or a diagnostic mammography, it can often times be performed during the same appointment.

Biopsies

 A breast biopsy is the removal of breast tissue for examination of signs of breast cancer or other disorders. Biopsy procedures often provide alternatives to surgery and in some cases are minimally invasive. Ultrasound-guided breast biopsies and stereotactic breast biopsies are performed in the comfort of our Breast Center.  An ultrasound-guided biopsy uses ultrasound equipment to "see" and direct the needle to the area where the biopsy is needed. A stereotactic biopsy uses a digital mammography system with computer display and software to guide a needle to the area where samples of tissue will be taken.

Getting Your Results

Your doctor will receive the results of your screening mammogram on the same day as your appointment.  The Breast Navigator will call you as soon as possible if additional testing is needed.  If you have diagnostic testing done, you will see the breast radiologist.  The radiologist will see you during the testing and explain the results to you along with giving you an opportunity to ask any questions that you may have.  If you need a biopsy, the Breast Navigator will schedule it that day.

Treatment Options

To assist patients and family members through the cancer-care journey, Texas Health Huguley offers patient navigation to guide patients from a cancer diagnosis through treatment, rehabilitation and survivorship. Facing a cancer diagnosis floods patients and their loved ones with many questions. Our cancer care program is proud to work with The Center for Cancer and Blood Disorders. Services include the latest advances in chemotherapy, radiation therapy, immunotherapy, hormonal therapy and biological therapy, as well as the opportunity to take advantage of groundbreaking cancer treatment available only through clinical trials and cancer research.

Personalized Care

At the Breast Center, you will be guided with care and compassion. Cyndi Anderson, R.N., C.R.N., is the Breast Navigator dedicated to breast health and is available to personally assist you with scheduling, education and guidance, should you need further testing. Azita Tadjali, M.D., is a board-certified radiologist on the medical staff and is fellowship trained in breast imaging. Dr. Tadjali has special expertise and training in breast imaging and focuses on reading and interpreting screening and diagnostic mammograms and other breast imaging, including interventional procedures.

Support Groups

There are several resources and support groups in the area, please contact Cyndi Anderson, R.N., C.R.N., Breast Navigator at Call817-568-5431 for more information.
Breast Center Team
Texas Health Huguley Hospital's comprehensive Breast Cancer Program offers advanced medical services and focuses on whole person care. The multidisciplinary physician team and nurse navigator work together to provide a personalized care plan and guide each patient through their journey. Texas Health Huguley gives patients with breast cancer the quality medical care they need to fight their disease close to home.
8 items. To interact with these items, press Control-Option-Shift-Right Arrow. These items are in a slider. To advance slider forward, press Shift-Command-Right Arrow. To advance slider backward, press Shift-Command-Left Arrow.