Get Answers and Understanding
At Texas Health Huguley, we invest in state-of-the-art technology that provides the best medical images available today. For our patients, this ensures the highest quality services and most importantly, it makes it possible for your doctors to make clinical decisions with unprecedented speed and accuracy.
State-of-the-Art Tests, Available to You
When it comes to diagnosing your health condition, pinpoint accuracy is crucial. Texas Health Huguley imaging and radiology services include 3T MRI, 3D mammography, 128 channel CT scans and digital X-rays. These leading-edge technologies provide high-quality images that show us exactly what's going on inside your body. Then we have a clear picture for your care team to make a treatment plan and help you down the road to whole health. 
12 items. To interact with these items, press Control-Option-Shift-Right Arrow
Bone Density Scans (DXAs)

Bone density scans (DXAs) are enhanced forms of X-ray technology. They measure bone loss to test for the effects of osteoporosis and other conditions that affect your bones. DXAs can also assess your risk of developing fractures. These procedures are painless and, depending on the area of the body, usually only take between 10 to 20 minutes.

Computed Tomography (CT) Scans

CT scans are non-invasive screenings that help diagnose and treat medical conditions. They combine the power of high-tech computer systems and X-rays to create specialized images of your brain, bones and other organs. CT scans are quick and painless, and CT scanners are open on both sides, making the procedure more comfortable for people who don't like closed spaces.

Fluoroscopy

Sometimes referred to as a real-time X-ray, fluoroscopy produces a moving image of the body's functioning organs. It is a non-invasive treatment that allows us to swiftly and accurately diagnose your condition.

Interventional Radiology (IR)

Interventional radiology uses X-ray, ultrasound, fluoroscopy and other imaging technologies to treat various medical conditions without surgery. Minimally invasive, these procedures include biopsies, draining fluids, inserting venous access devices and opening narrowed blood vessels.

Magnetic Resonance Imaging (MRI)

MRI is a tool that uses a powerful magnetic field, radio-frequency pulses, and a high-tech computer to produce detailed images of organs, bone, soft tissue and almost all other internal parts of the body. MRI is one of the safest and most versatile imaging methods available, and there is no exposure to radiation. MRI procedures usually take between 30 to 60 minutes, depending on the type of MRI exam.

Mammography

Used to detect and examine changes in the breasts, mammography helps us better care for people with breast cancer. There are two types of mammograms at Texas Health Huguley available to patients: screening mammograms and diagnostic mammograms. A screening mammogram is the annual preventative screening recommended for women age 40 and older who have never experienced abnormal breast symptoms. A diagnostic mammogram is usually for women who have symptoms that need to be further investigated, like a lump in the breast or nipple discharge. Sometimes diagnostic mammograms are performed as follow-ups to screening mammograms for further examination of specific areas of the breast.

Nuclear Medicine 

Texas Health Huguley nuclear medicine diagnoses disease and evaluates functions within the body by using tiny amounts of radioactive substances called radiotracers. Radiotracers are ingested orally or by intravenous (IV) injection and accumulate in targeted organs or tissue. There, they give off energy that's captured by a gamma camera. Nuclear medicine helps us detect conditions such as cancer at the earliest possible stage.

Pediatric Imaging

Children have unique medical needs, and Texas Health Huguley pediatric imaging services offer the full range of kids' screening and diagnostic services, including the latest in CT, MRI, digital X-rays, ultrasound and nuclear imaging technologies. Our pediatric imaging department includes a team of physicians, pediatric nurses, pediatric technologists and child life specialists. All are highly trained in meeting the medical needs of children with compassion and creating a kid-friendly environment where patients and families can feel comfortable and at ease.

PET-CT Scans

PET-CT scans can detect tumors nearly three times smaller than the masses made visible on traditional scans, and they've had a revolutionary impact on cancer care. Early detection is key to successfully treating malignancies and detailed PET-CT scans aid doctors in diagnosis, treatment planning, surgical planning and treatment monitoring. They also help us determine whether a mass is malignant (cancerous) or benign (not cancerous).

Ultrasound Imaging

Sometimes called ultrasound scanning or sonography, ultrasound imaging is a non-invasive medical test that uses high-frequency sound waves to create pictures of the inside of the body. No ionizing radiation (which is used in X-rays) is used for an ultrasound. And because ultrasound captures images in real-time, they show the structure and movement of internal organs and the blood flowing through blood vessels.

Women's Imaging

Texas Health Huguley women's imaging services address the unique needs of women. From bone density scans and routine mammograms to fertility tests and the monitoring of fetal development, our network of care covers the full range of women's screening and diagnostic services, including diagnostic and screening mammograms; bone density scans; breast biopsy, ultrasound and MRI; and needle/seed localization. 

X-Ray

Also called radiography, X-rays capture a two-dimensional image of the inside of the body. An X-ray beam passes through the body as a computerized detector captures the image. The detailed picture created allows us to determine whether a bone is broken, chipped or dislocated; locate objects accidentally swallowed by a child; evaluate bone infections and joint injuries; screen for heart and lung disease; and determine causes of abdominal pain.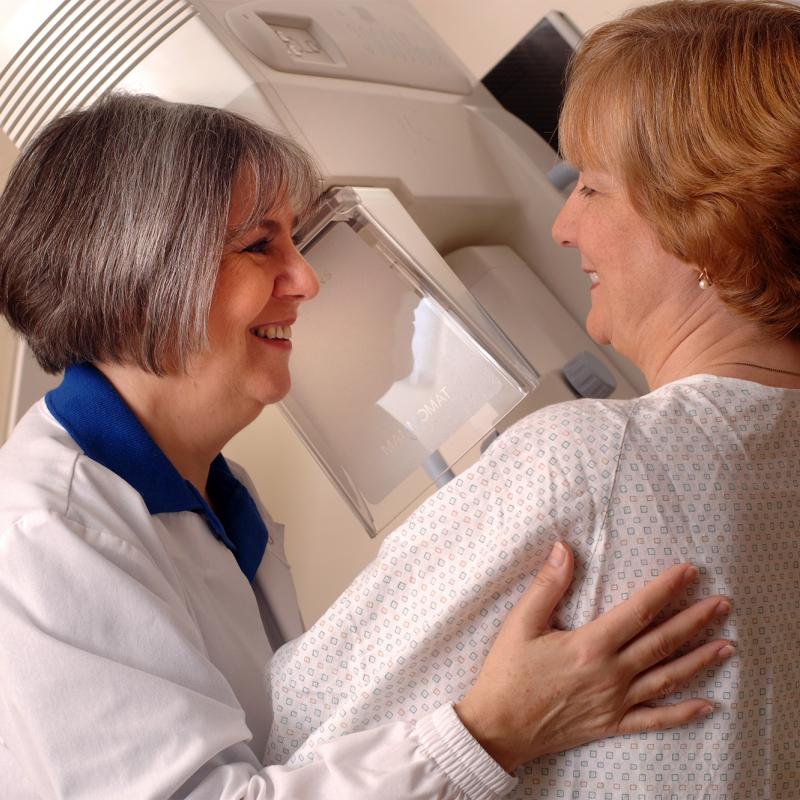 Trusted Imaging Services Close to Home
At Texas Health Huguley, we invest in the very best technology and staff in order to provide you with the best possible care. No matter what imaging service you need, we're here for you, ready to help you get the information you need to better understand your health.