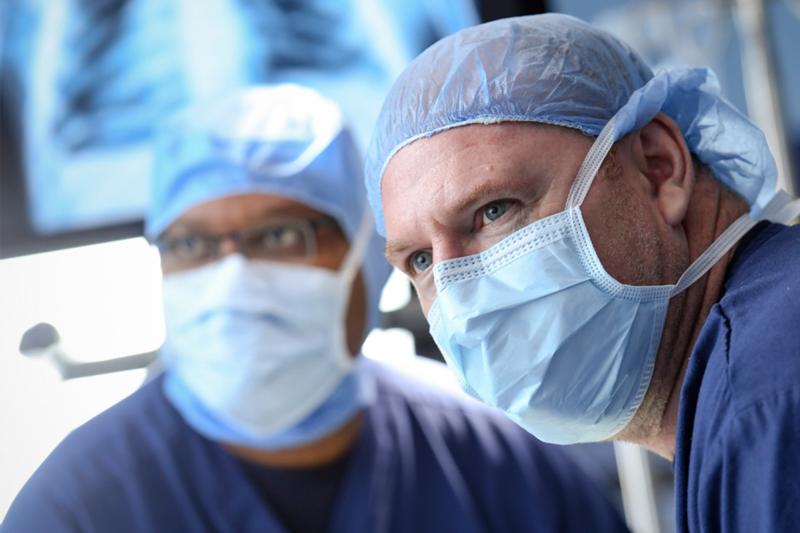 Outstanding Care for Your Surgical Needs
Improving your health through surgery can be the fastest, most effective path toward feeling whole. Our surgery team can treat conditions that have troubled you since birth, correct abnormalities or illnesses that developed over time, and heal unexpected injuries. Your skilled surgical team will construct a personal care plan for you, designed to address your unique needs so we can set you on a path to healing.
Surgical Expertise Just Around the Corner
You can feel confident that our experienced team performs advanced procedures in a state-of-the-art facility.
3 items. To interact with these items, press Control-Option-Shift-Right Arrow
Expansive Operating Space

Our surgical center features 11 operating rooms that can accommodate many surgeries at once. This way, we can operate more frequently and schedule your procedure sooner. We have rooms dedicated to open-heart surgery and cancer procedures, just one more way we're meeting the health needs of our community.

National Distinction

Exceptional patient experience has earned us recognition as one of the top-performing surgery centers in the country by Press Ganey, an organization that uses metrics to rank distinguished health care systems.

Vascular Experts

If needed, our specially trained vascular access experts will support your body with vitamins, nutrients and other medication by carefully administering an intravenous (IV) tube into your system so you're comfortable during your procedure.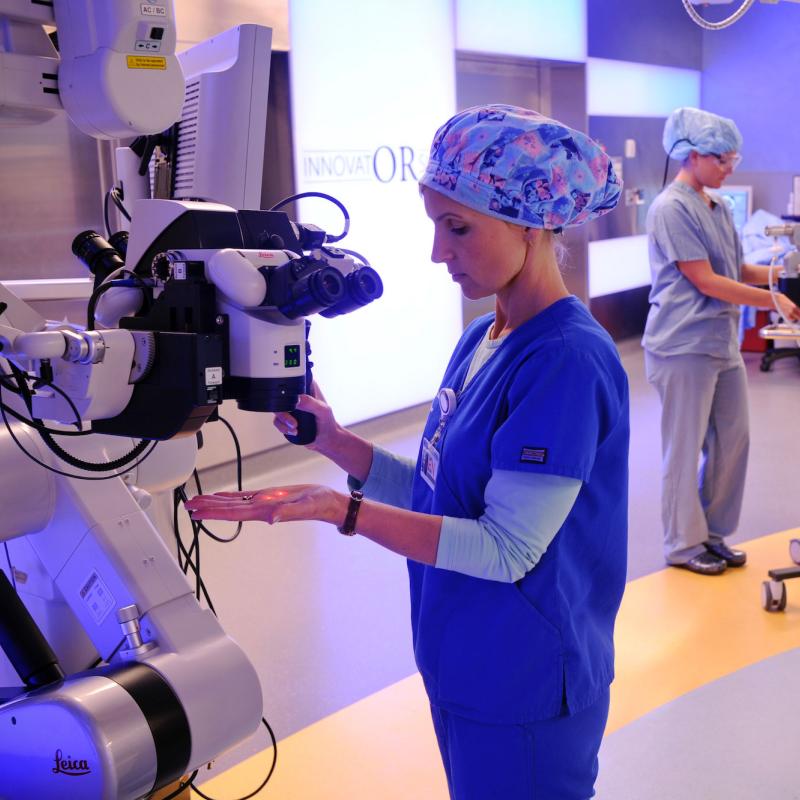 Complex surgeries? We're here for it.
Your health journey is uniquely your own. That's why we've recruited surgical experts from across specialties, who share their expertise in collaboration with one another, all working together to heal you.
7 items. To interact with these items, press Control-Option-Shift-Right Arrow
Cancer Care

Our surgeons work to remove and help you manage cancer. We specialize in treating colon and breast cancers, and perform cancer-related surgeries like:

Abdominoperineal resection
Lumpectomy
Mastectomy
Partial colectomy
Total abdominal colectomy
Total proctocolectomy

Ear, Nose and Throat (ENT)/Otolaryngology

Ear, nose and throat (ENT) conditions that are more severe than sinus congestion and mild irritation may prompt your family physician to send you to an ENT specialist called an otolaryngologist. Our ENT surgeons are specially trained in improving care for patients as young as infants.

Our otolaryngologists perform procedures like:

Adenoidectomy
Cochlear implant
Eardrum repair
Nasal and sinus endoscopy
Thyroidectomy
Tonsillectomy

General and Vascular Surgery

Our general and vascular surgeons have undergone extensive training. Years of clinical experience have prepared our team to respond to vein- and artery-related conditions, as well as unusual or unexpected accidents.

We perform general and vascular surgeries like:

Angioplasty
Appendicitis
Bypass surgery
Hernia repair
Thoracic duct embolization
Thyroid surgery

Men's Health

As you age, you need a team that understands how to keep you healthy and thriving. Our men's health team is committed to seeing that you are cared for in a safe environment, where you can share your concerns with a trusted physician passionate about navigating conditions that uniquely affect men.

Aquablation therapy is a new type of surgical treatment for benign prostatic hyperplasia (BPH). At Texas Health Huguley, we are proud to be among the first in the North Texas area to offer this advanced, minimally-invasive treatment. Aquablation therapy is a one-of-a-kind procedure that aims to minimize this compromise.

Open Heart and Thoracic Surgery

When your heart, lungs and esophagus need intricate care, count on our cardiothoracic team to help you feel whole again. Because of the complexity of open-heart and thoracic surgery, you'll have a robust team of specialists all working in tandem so you receive the personal support you deserve.

We perform surgeries like:

Arrhythmia surgery
Bronchoscopy
Coronary artery bypass grafting (CABG)
Heart transplants
Lobectomy
Tube thoracostomy

Orthopedic Surgery

We repair broken bones — but that's not all. Our orthopedic team corrects congenital abnormalities, mends dislocated joints, and partners with our rehabilitation services team so that you are cared for long after you leave our emergency suite.

We can help you regain your mobility and your life with orthopedic procedures like:

ACL surgery
Ankle repair
Minimally-invasive bunionectomy
Complex shoulder surgery
Hip replacement
Joint fusion
Knee replacement
Trigger finger release

If you would like to schedule an appointment with an orthopedic specialist, call Call817-568-5342.

Plastic and Reconstructive Surgery

Our skilled surgeons are committed to helping you live more comfortably and confidently. Corrective surgery that targets abnormalities caused by congenital disabilities, disease and other natural factors not only improves your physical health, it brings peace and joy to your emotional and mental well-being.

Our plastic and reconstructive surgeons are ready to serve you with procedures like:

Breast reconstruction
Cleft lip and palate repair
Craniosynostosis
Scar revision
Septoplasty
Tissue expansion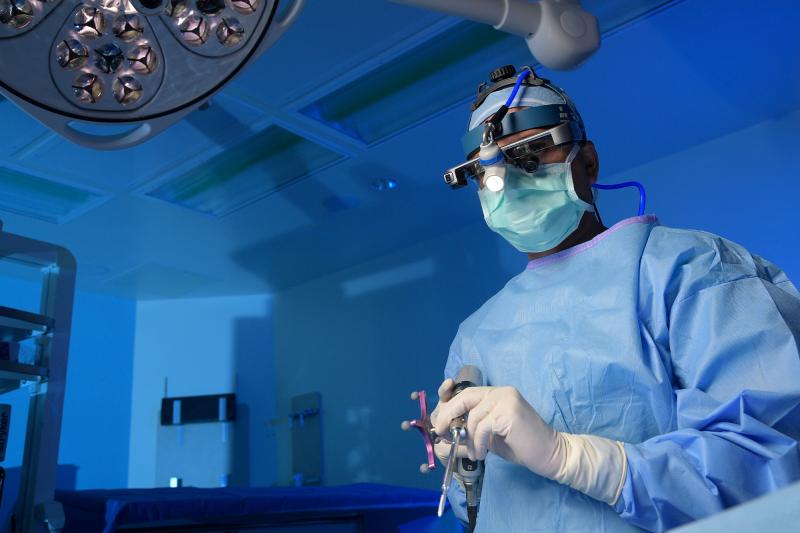 Texas Health Huguley Surgery Center
We're able to expand our surgical services with a state-of-the-art surgery complex just steps from our hospital. This medical mall of outpatient operative expertise is designed to treat a wide range of conditions. Opened in 2006, our nationally recognized Texas Health Huguley Surgery Center is accredited by The Joint Commission and features three operating rooms and two procedure rooms.
Our care specialties include:
Ear, nose and throat (ENT)/Otolaryngology
Gastroenterology
General surgery
Gynecology
Ophthalmology
Orthopedic surgery
Pain management
Podiatry
Whole Care for Your Whole Surgical Journey
We work tirelessly to ensure you're cared for throughout your entire surgical experience. That means guiding you through your care, even before your first appointment. Your health journey may take you to several specialists for a variety of conditions. We'll help you prepare for each by discussing what you can expect, and we'll stand by as a resource for when you have questions. Lean on us before, during and after your surgery.
Surgical Experts Near You